Celebrity Long Hairstyles Gallery
Long Hair 1 | Long Hair 2 | Long Hair 3 | Long Hair 4 | Long Hair 5 | Long Hair 6 | Long Hair 7 | Long Hair 8 | Celebrity Long Hairstyles
Tara Reid Hairstyles
Tara looks amazing with this long layered hairstyle, see photo right. The layers are cut throughout for a very free flowing look. The layers help to add movement to the hair and break up thickness in the style.
The addition of soft sideswept bangs, see photo left, turns an ordinary long hairstyle into a very trendy one. The bangs sweep across the forehead from a deep side part and help to add intrigue and definition to the look.
Tara has a very vibrant hair color that has added highlights mixed in throughout for a brightening effect.
The ever-popular Tara sizzled at "The Fountain" premiere with this great hairstyle. Her length was left below shoulder level and her top and side sections were angle layered to shape her wave and add body to the top. Long swept bangs were also cut to add shape around her face and to draw attention to her eyes. This style will work well on medium to thick hair types and smaller round face shapes.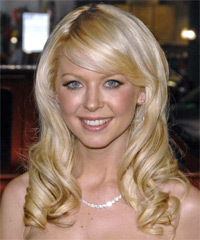 Get this hairstyle by applying a curl-enhancing cream or gel to damp hair. Blow dry the hair using a diffuser attachment and just your fingers to shape and position the hair. When the hair is completely dry, add all over curls using a medium to large curling iron. To create the spiral curl, hold the curling iron in a vertical positiion with small sections of hair wrapped around.
Always allow the hair to cool completely before trying to shape and position the curls. When the hair is hot, the curl has not set yet and must cool.