Celebrity Long Hairstyles Gallery 6
<<PREVIOUS
|
NEXT>>
Long Hair 1 | Long Hair 2 | Long Hair 3 | Long Hair 4 | Long Hair 5 | Long Hair 6 | Long Hair 7 | Long Hair 8 |
More Ideas For Long Hair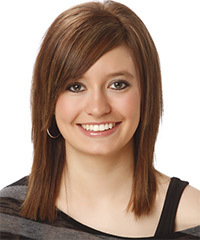 When you have run out of ways to wear your long hair, a great suggestion is to wear it in a ponytail. Ponytails are not just for the gym and leisure events any more. Many celebrities have been seen showing up at formal occasions wearing their hair in a ponytail.
Of course if you want a straight and smooth looking ponytail, you will need to dry your hair first and run a flat iron over all the hair, from the roots to the ends. For example, look at Jamelia's ponytail hair style below. All the hair is kept smooth and pulled back into a smooth ponytail.
If you are not sure how you would look with different long hair styles, a great option for you now is to TRY on hair styles using hair imaging software.
See our step by step demonstration of how this software works and how you can find a new hair style that works for your face shape. Enter Here to See for yourself!
Sometimes trying on a new long hairstyle is the best way to find out if that is what you want. Keep in mind that any long hairstyle will require a lot of work and styling time every day. Long hair must be conditioned on a regular basis to keep it looking good.
This long and wavy hairstyle is a classic among celebrities. If you are ever unsure of what hairstyle to wear, this would be your choice. Year after year this style remains a staple in every women's hairstyle closet.
Long, curly hairstyles will need special layers cut in order for the style to lay right. If you hair is too bulky or thick, it will be very full.
There are many hair stylists that specialize in curly hair, even salons devoted exclusively to curly haired women.
This style, see photo left, can be changed up by adding some side swept or wispy bangs. The layers will need to be trimmed frequently to keep out the bulk.
Jennifer Aniston has long angles cut into her hairstyle. The angles taper in to the chin area. She has parted her hair somewhat indiscriminately to one side and is styling all the layers down and forward to frame her face and jaw area.
This style can also be cut the exact same way, but much shorter to a medium length style. The style looks effortless (keep in mind it does require work) and so carefree.
Thick hair will require additional thinning out and/or special layering for this style to work.
Always consult with your hair stylist for the best options when changing hairstyles.
Long, wavy hair with a smooth crown is a winning look for Michelle. The hair is parted slightly off-center and the waves start around ear length and go to the ends.
SEE CELEBRITY LONG HAIRSTYLES, Links to left