Long Hair 1 | Long Hair 2 | Long Hair 3 | Long Hair 4 | Long Hair 5 | Long Hair 6 | Long Hair 7 | Long Hair 8 |
How will you wear your long hair?
What are some good hair styles for long hair?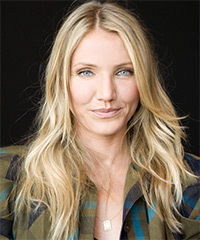 A great option for long hair is to add layering to the hair. As your hair grows longer, and all your hair is cut to one length, your hair will begin to appear very bulky.
Adding layers is the perfect solution for the bulky look. As hair is cut shorter in different areas, the hair will begin to lay much better.
Take a look at the long hairstyle, pictured right. She has layers that start about chin level and taper down all the way to the ends of her hair. She has added soft waves all over to the layering. Another great idea for after you have added layers is to get a few highlights and lowlights to accentuate the hair and make it glisten.
Of course, if you have unruly hair you may need to allow a little extra time in the morning to style your hair and make sure the layers are behaving.
Long layers are the perfect answer to help hair lay smooth. They are also very helpful for curly hairstyles. Ask you stylist if long layers will work for your hairstyle. Layers are also helpful to reduce bulk in thick or coarse hair.
Elizabeth Hurley has had a signature long layered hairstyle for several years now. Her style is a classic look. Features include very long bangs swept to the side, extra long layers and several highlights mixed throughout.
Add waves all over by using a medium barrel curling iron or hot rollers.
Always apply a heat protectant product to the hair before using any sort of hot styling tools. Heat can dry and damage hair without proper protection.
Heidi Klum has an excellent idea here for sprucing a long hairstyle. She has added a full regular bang to her style. What better way to make a change than doing something that isn't drastic like a major length change or hair color change.
Simple, just add bangs. What's your favorite small change to make your hair look different?
Lindsay Lohan also has a long layered hairstyle with very long side swept bangs. This hairstyle can easily be achieved with the use of hair extensions.
Extensions involve attaching human or synthetic hair directly to the natural hair by one of several different methods available. The extensions can be left in the hair anywhere from several weeks to several months, depending on the type of hair used and the method used to attach them.