Celebrity Long Hairstyles Gallery
Long Hair 1 | Long Hair 2 | Long Hair 3 | Long Hair 4 | Long Hair 5 | Long Hair 6 | Long Hair 7 | Long Hair 8 | Celebrity Long Hairstyles

Miranda Lambert Hairstyles
Miranda is wearing a long, wavy hairstyle that features a mixture of highlights and lowlights combined with soft waves and a deep side part.
For an extra soft look, add fringe or long side swept bangs to this style. Bangs help to balance out face proportions such as a high forehead and narrow chin.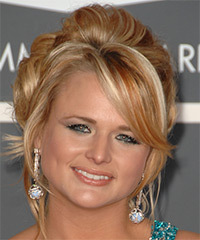 Teasing of the roots gives this hairstyle plenty of lift and height through the top. The back is curled and pinned to the head while long side swept bangs are left out to soften the over all look.