Celebrity Long Hairstyles Gallery
Long Hair 1 | Long Hair 2 | Long Hair 3 | Long Hair 4 | Long Hair 5 | Long Hair 6 | Long Hair 7 | Long Hair 8 | Celebrity Long Hairstyles
Hair Cuts for Long Hair - Mila Kunis Hairstyles
Mila Kunis wears traditional hair cuts for long hair. Her style features long layers all over with curl added throughout. This type of style is easy to get on your own.
The first step to luscious locks like Mila is to to deep condition the hair to help create extra shiny and health locks.
Apply conditioner to freshly shampooed hair and wrap the hair in a shower cap or a warm towel. Heat will help the conditioner to soak into the hair. Leave the conditioner in the hair for approximately 20-30 minutes and then rinse. Weekly conditioning treatments may necessary if you hair is really damaged. As you hair is repaired, then conditioning once a month may be sufficient.
Apply a straightening cream or gel to the hair and blow dry using a large round hair brush to direct all layers down and under. It is also recommended that you apply a hair care product that also protects the hair from extreme heat damage- like the heat from a hair dryer or flat iron.
When the hair is completely dry, run a flat iron over all the hair from the roots to the ends. Blast the hair with some shine serum spray to seal in the cuticle and allow the hair to shine.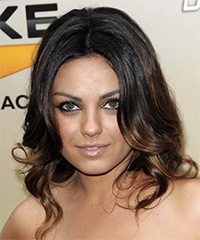 Mila showed off her layers with this simple yet stunning hairstyle. Large waves were added to her mid-lengths for movement and softness and can be created with the help of large rollers.
Soft sexy waves are another look for this long hair cut style. The highlights she has added toward the ends of her hair are very visible when she wears the curly hair style. This type of coloring, with darker roots and lighter ends is called ombre hair coloring. It is a very fashion-forward trend today that many are getting. It is a hair coloring job best left for the professional hair stylist, as going more than 1 or 2 shades lighter at home with home hair coloring kits may not yield the best results.
SEE MORE Hair Cuts for Long Hair