How to Hair Style | Frizzies | Shiny | Extensions | Blow Dry | Hair Dye | Bangs | Curly | Short | Face Shape | Maintain
How to Hair Style - Tips for styling short hair
The short hair style is not only modern, edgy, but also a snap to style. Imagine waking up, taking a 5 minute shower and styling your hair in 10 minutes flat! Well that is reality for those with short crops. The secret to styling short hair is to visit your hair stylist for reqular trims. Short hair with layers needs frequent trims to keep it in good shape. The thicker, curlier and coarser your hair is, the more work short hair with layers will be.
Prep damp hair with a styling mouuse before blow dryibng. Use a large round brush to direct layers n the direction you want. If all over curly/wavy is the style you are going for, apply a dab of curl cream and start scrunching the spirals with your fingers as you blow dry the hair using a hair dryer with a diffuser attachment.
Create volumous roots by applying a volumizing cream to the area before drying. Also helpful is to take small sections of hair and gently backcomb them and then smooth over the top with your fingers.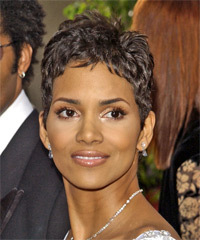 Halle can pull off any style due to her small facial features. Her sides and back have been razored short, almost shaved, and her top has been left with a little length and thinned and chipped into to create a piecey effect.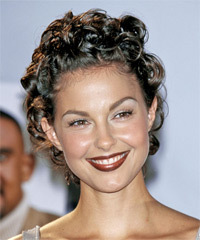 This stunning actress looks fabulous with this short layer cut. This is an excellent low maintenance design for making the most of natural curls or artificial ones. The back has been layer cut short into the neck and the sides have been cut to about earlobe length then graduated slightly to a heavier uniform layer throughout the top. The result is soft, full and a style which suits round small face shapes best.