Hairdos Gallery for the Holidays
Curly Hairdos
Hairdos 1 | 2 | 3 | 4 | 5 | 6 | 7 | 8 | 9 | 10 | 11 | NEXT Long Hair Hairdos
Curly Hairdos 2
The curly hairdo is very popular this year as women are adding all over bouncy waves to long layered hairdos. Check out some amazing looks below. Kate Beckinsale has touch-me hair, see photo right, that shows off her multi-highlighted tone and volume hairdo.
All over curls can be added with either a medium barrel curling iron or hot rollers. For a dimensional look, alternate between a medium barrel and a large barrel curling iron. The different curls all over are a great look.
Kate has long side swept fringe hair that gently sweeps off to each side of a deep side part. Height in the crown area helps to finish off the look. In addition to gently back combing small pieces of hair, applying a root volumizing mouuse or hair product before blow drying can also help to create some height in the area.
To keep these bouncy waves in place, apply a strong hold hairspray.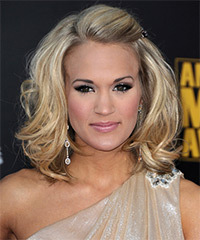 Carrie Underwood is also wearing an all over curly hairdo, see photo left. Medium to long layers allows this hairstyle to bounce up to achieve body and fullness to this look. The top has been teased and pinned back for height and shape.
This style is full of bounce and shine. Mixed highlights can be seen throughout the hair.
Add long sideswept bangs to this style for an even more alluring finish.