Celebrity Medium Hairstyles | Gallery Links
Medium Gallery 1 | Medium Hair 2 | Medium Hair 3 | Medium Hair 4 |NEXT |See Popular Medium Hairstyles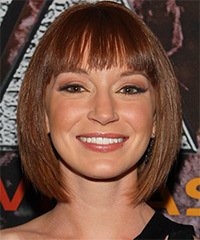 In order to make it easier to view different medium hair styles, we have broken down all the hair styles into many separate pages. Be sure to browse all the Medium Hair Styles links- II, III, IV to see all the latest styles for medium length.
Also, for information, we have included some helpful tips for using hair products. There is such a variety of products available today. Standing at the hair care product aisle can drive a person nuts. Find out below what type of hair product or solution is needed for certain hair conditions.
Medium Length Hairstyles Offer Great Versatility
By Gerd Cornelius Pacher
For ease of care and versatility the medium cut hairstyles are hard to beat. They can quickly go from free and flowing, to curly and wavy, and from there to a sleek pulled back look. Many celebrities like Courtney Cox Arquette and Nicole Ritchie choose a medium length because it ideally adapts to their fast-paced lifestyle.
Medium length hair is usually thought to be shoulder length or an inch or two shorter. It is long enough to pull back in a bun, but short enough that the weight of the hair doesn't flatten out. The adaptability of medium length hair is evidenced in the ease of adding flair and variety on the fly.
Using a few simple tools the layout of the hair can completely change. For instance, use hot rollers to produce a curly effect in just minutes, or use CHI hair straighteners or wavers to get a completely different hot new look. In addition, changing the appearance of the bangs can change a look for casual to sophisticated in a flick of the iron. Nicole Ritchie, for example, often uses a distinctive fringe-molding technique for her bangs to give her whole hairstyle a splash of panache.
Bobs are a classic medium length hairstyle. Today's bobs are structured and adapted to fit each face type. They easily move from casual to formal. One particular cut, recently popularized by Jennifer Garner, is a shoulder length bob with slight layering and razor cut ends and finishing with sweptback bangs. This is a good cut for most face shapes.
Another popular cut for medium length hair is the layered cut. Depending on the style and number of layers-this cut gives the illusion of volume, and when cut correctly, instantly falls into place.
Hairstyles and hair care products for medium length hair abound on the Internet. Some sites allow you to upload your picture to try the hairstyles out. If you're looking for ease and versatility, the medium length hair cut is hard to beat.
Let me give you an idea of medium hairstyles which not only improve your personality and grace but would also build your confidence level. Visit http://www.medium-hairstyles-center.com/ to know more.