Prom Curly Hair
Hair Updos | Long Hair | Short Hair | Curly Hair
Miley Cyrus is wearing a picture perfect prom hairstyle. The style features a deep side part with wispy strands framing the face and long layers curled from chin length all the way to the ends. Wear this style all over curly for prom.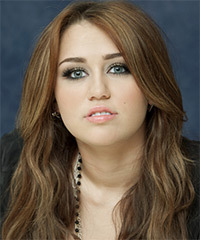 Curly hairstyles that features a deep side part, long side swept layers, a smooth crown and bouncy curls from the eyes down to the ends. Pull back a small section of hair in the crown area for a partial updo hairstyle for prom.
Mariah has a long curly hairstyle that will work with just about any dress. Her hair is parted in the middle and the crown area is kept smooth. Add all over waves using a medium barrell curling iron. For added dimension, alternate the size of the curls by using both a medium and large barrel curling iron throughout. Allow the hair to cool completely before shaping and positioning the curls. Blast the hair with a finishing spray to seal in the curls and add shine.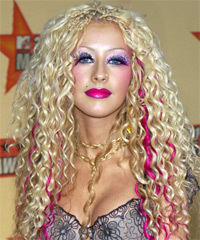 Christina likes to draw attention and this bold hairstyle achieves just that! This look is possible for naturally curly hair or straight hair using a curling iron or rollers. This style is best suited to larger, longer faces as the length and width of the style can make your face look smaller. It is great for long thick hair and very easy to maintain. Be creative with some funky highlights like Christina!
Heather Graham has the perfect curly hairstyle for prom. The hair has been curled all over using a medium barrel held in a vertical position. The hair is parted deep on one side, with all hair swept off the face.
This style will also work with long side swept bangs. Add decorative hair barrettes to make the style more formal looking.