Long full volume hairstyles like Scarlett Johansson's are in style this month.
Hair Collections - March Hairstyles
January | February | March | April | May | June | July | August | September | October | November | December
Spring is in the air!! And so are wonderful new hairstyles. Check out some of these classy styles below. Long full hairstyles, see photo left, that have a lot of layering and volume throughout are very popular. Not that stick straight is out of style, but this full volume look is making a major comeback this month.
Liv Tyler is wearing a deep brunnette hair color with a style featuring long side swept bangs, long layers and a slight wave all over.
Brunnette hair color, in all shades, is very popular this month.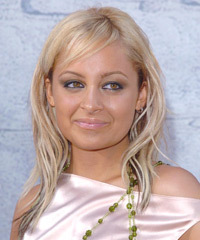 Whether it's the high life or the "Simple Life", Nicole's hair always attracts attention. Gorgeous layers have been cut throughout Nicole's locks and choppy bangs have been added for a flirty finish. Multi-toned color effects are a highlight of this great style and will be very easy to achieve.
Go to April Hairstyles Collection
SEE February Hairstyles Collection